RCP Tiburon Mile Open Water Swim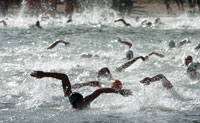 Founded in 1999, by Robert C. Placak, a Marin County native and Tiburon resident, the RCP Tiburon Mile has quickly become known as one of the most competitive and prestigious open water swims in the world. Hundreds of swimmers will once again converge upon the Town of Tiburon, California and battle the waters of The Raccoon Strait on Saturday, 10/10/2020.  This premier international open water swim will include many Olympic and world Champions as well as swimmers from Russia, Australia, and Germany and Hawaii.
Ages

13 and above, younger by permission only. Please call the race hotline for more information, (415) 306-0716.

Finish Line

Champion Chip Timing provided by Pacific Sport Events.
Fees
All fees are non-refundable! Due to the nature and complexity of this event, there will be no refunds, including, if the event were to be cancelled.
The RCP Tiburon Mile T-Shirt is not included in the entry fee cost.  Please add $19.50 to receive a t-shirt.
Swimmer Fees (all ages)
››› $189.00 Entry Fee (if post-marked by 10/15/2019)
››› $199.00 (10/16/19-10/02/20)
››› $230 (10/03/2020-10/09/2020)
Same day registration is $350.00 CASH if entry space is available.
Entry fees do not include the cost of T-Shirt. T-shirt fee is $19.50.
*ENTRY FEES INCLUDE A MANDATORY STATE PARK ACCESS FEE.
Entries are limited this year and we expect this event will sell out, early registration is encouraged!
Time Limit Policies
A cutoff time of 55 minutes for the entire swim will be strictly enforced.  This cutoff time has been established to ensure the safety of swimmers and to ensure we comply by the policy as dictated in our insurance agreement. We certainly do not take great delight in having to enforce this kind of restriction. Swimmers who fail to complete the required distance under the established cutoff time will be visited by a motorized safety craft and required to exit the swim immediately.  Swimmers who fail to make the cutoff time will be considered disqualified non-finishers.
Definition Of A Wetsuit
Men: Please note that ANY suit that goes above the hip or below the top of the knee cap is considered a BODY SUIT or wetsuit.
Women: Please note that ANY suit that goes below the top of the knee cap and/or extends below the top of the shoulder blade is considered a BODY SUIT or wetsuit.
Swimmers in the age group or elite divisions must wear suits made of porous material; wearing a body suit (a.k.a. 'legskin') is disqualified. Referees will be at the finish line to be sure this rule is applied.
Team Division Policies
High School, Club and Collegiate teams of 15 or more swimmers, please call for team discount prices. REGISTRATION IS ONLY AVAILABLE ONLINE AND MUST INCLUDE YOUR TEAM NAME TO QUALITY FOR TEAM DISCOUNT.